Arizona Field Ornithologists

10th Annual Meeting

Yuma, AZ

21-23 October, 2016

Best Western InnSuites Yuma Mall Hotel & Suites

1450 Castle Dome Ave. • Yuma, AZ 85365

Register Online: registration closed. Contact Anne Pellegrini (fiddlehopperATgmail.com) with any questions
Featuring: Presentations, Dinner Speaker, Mini-Field Expeditions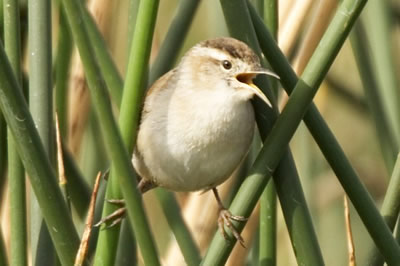 Marsh Wren, photo by Robert Shantz
Friday, 21 October
Mini-Expeditions Descriptions click here
West Wetlands and Ag Lands (FULL)
Betty's Kitchen, Mittry Lake, and Hidden Shores (FULL)
San Cristobel to Gila Valley
Cibola National Wildlife Refuge
Email the trip leader to sign up for a Friday Mini-Expedition (contact info in Descriptions document). Space is limited.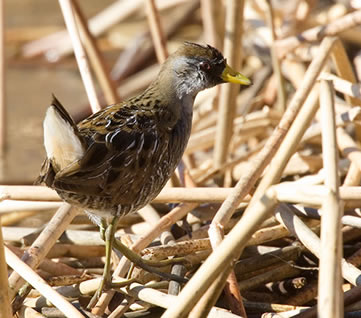 Sora, photo by Robert Shantz
SOCIAL HOUR
5:00 P.M. -- 6:30 P.M.
Prison Hill Brewing Company
food also available, Yelp review here.
Address- 278 S Main St, Yuma, AZ 85364
Google map: here
Saturday, 22 October
MEETING
8:30 A.M. -- 4 :30 P.M.
Detailed Meeting Agenda click here
Invited Presentations on Arizona Birdlife and research. For full abstracts click here (PDF).
Papers-
A Look at the Seabirds of Arizona
Hurricane Newtown Meets Tucson Wildlife Center

Partners in Flight Landbird Plan Revision: What it Means for Arizona

Preliminary Findings: Golden Eagle Nesting Phenology (Aquila Chrysaetos)

A Recovery effort: California Condor Distribution, Breeding and Challenges in the Southwest Population

Gray Hawk Expansion in the San Pedro River Valley: Habitat, Diet, and Density Dependence

A Summary of Bird Monitoring of Restoration Sites on the Lower Colorado River

Spatial Ecology of the Lower Colorado River Valley Population of Greater Sandhill Cranes

The Evolution of Hummingbird Coloration and Courtship
Posters-
Population and Density Estimates of Breeding Birds in the Sonoran Desert and Riparian Habitats of Arizona

Prescribed Fire, Resource Objective fire and Wildlife Effects on American Three-Toed Woodpecker Habitat in Arizona
Bird Photo and Audio Quiz
Other Reports: Reports and future plans for such AZFO activities/projects as;
Field Expeditions

Seasonal Reports

Online Journal

Elections of the AZFO board and officers
Used Book Sale and AZFO Gear (cash/check only accepted)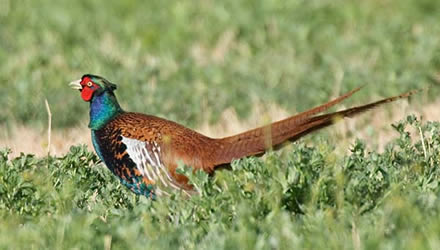 Ring-necked Pheasant, photo by Robert Shantz
SOCIAL HOUR
4:30 P.M. -- 6 :00 P.M.
Best Western InnSuites Yuma Mall Hotel & Suites
Cash Bar in hotel courtyard (lower level)
DINNER
6 :00 P.M.
Catered by Da Boyz Italian Cuisine
Best Western InnSuites Yuma Mall Hotel & Suites
Keynote Speaker: Dr. Osvel Hinojosa Huerta, Director of the Water and Wetlands Program with Northwestern Mexico's largest conservation organization, Pronatura Noroeste.
Bringing back the Colorado River Delta for People and Birds
Sunday, 23 October
Mini-Expeditions Descriptions click here
Salton Sea
Imperial NWR and Martinez Lake
Yuma East Wetlands
I-8 Oases
Queen Canyon to Signal Peak
Palm Canyon (backup to Queen Canyon/Signal Peak)
Sign up at the meeting for these Sunday trips. Space is limited.

Meeting Details
Costs:
Registration Closed
AZFO Members: No cost.
Nonmembers: Registration $10, deducted from your annual dues if you decide to join AZFO that weekend.

For more information contact:
Anne Pellegrini
fiddlehopperATgmail.com
Coordinator for AZFO statewide meeting
Richard Zizzi moved to Arizona with his family when he was four years old. By age eight, he had developed an interest in birds and was drawing and painting them. His interest in Arizona wildlife and birds started with some inspiration from 1972-1973 Arizona Highways, featuring artist Larry Toschik. Richard currently resides in Phoenix, where he is a conservationist, an avid bird researcher, bird artist and empirical designer. He holds a bachelor's degree in visual communication.