Black Scoter (Melanitta nigra), Pittsburgh Pt, Lake Havasu, Mohave County
This Black Scoter was discovered 30 Oct 2013 by Dave Stejskal and photographed by David Vander Pluym the next day.

The rarest of the three scoter species in Arizona with about 20 accepted records for the state. Most records are of female plumaged birds.

Dark cap with a contrasting pale cheek patch identifies this scoter.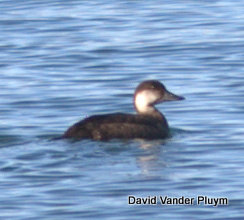 31 October 2013, photo by David Vander Pluym
All photos are copyrighted© by photographer