Eurasian Wigeon (Anas penelope), Flagstaff, Coconino County
Very rare in Northern Arizona, this Eurasian Wigeon (presumably the same bird) has returned to the golf course ponds in Continental for its third winter. It was first discovered by John Hildebrand on 4 January 2007. This winter it was first seen on 16 November 2008 by Scott Rasmussen and Debbie Rasmussen and was photographed by Debbie.
Hybrids between Eurasian and American Wigeon are frequent in Arizona and must be carefully separated from pure Eurasians. A bird in this same location in 2005 was possibly a hybrid. Note the pure gray sides of this bird which sharply contrast with the pinkish breast and the solid rufous head which indicate this bird is not a hybrid.
Note the two different morphs of American Wigeon in the photos, with a white-cheeked morph in the rear and a more typical brown-cheeked morph in the front.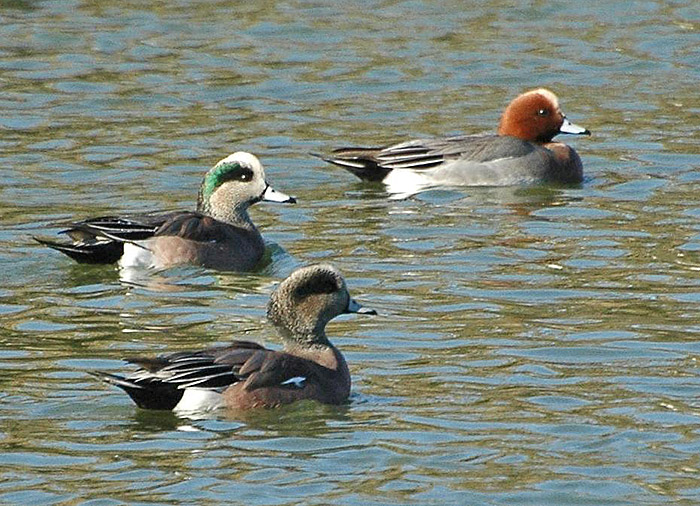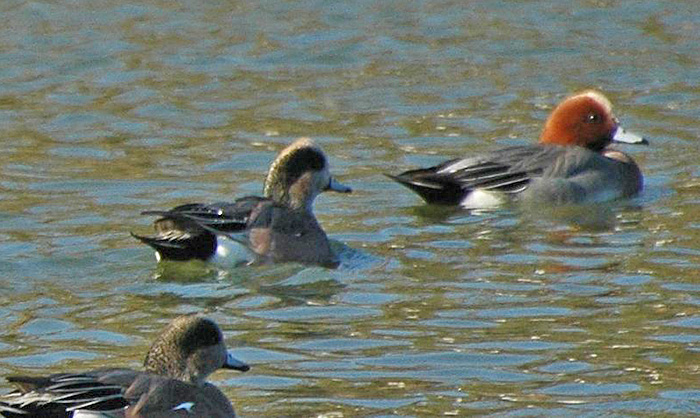 16 November 2008, photos by Debbie Rasmussen
All photos are copyrighted© by photographer