Historical Chronology of AZFO
Aug. 28, 2004—First formative meeting in Phoenix; 5 present (Troy Corman, Daniela Yellan, Josh Burns, Kurt Radamaker, Doug Jenness).
Feb. 20, 2005—Second formative meeting in Fountain Hills; 12 present; adopted name and mission statement; selected first interim officers (President – Troy Corman; Secretary – Tracy McCarthey; Treasurer – Kurt Radamaker; Webmaster – Kurt Radamaker (with Rich Ditch as support); Newsletter Editor – Doug Jenness. Approved plan for website and online publication.
Aug. 14, 2005—Third formative meeting at Ramsey Canyon; 9 present; adopted plan for seasonal reports and first field expedition; noted that AZFO website was up and running and first issue of Arizona Birds Online was posted.
July 8-9, 2006—First AZFO field expedition to White Mountains.
Sept. 10, 2006—Fourth formative meeting in Fountain Hills; 10 present; adopted bylaws, appointed interim board and officers (President: Troy Corman; Vice President: Keith Kamper; Treasurer: Doug Jenness; Recording Secretary: Cindy Radamaker; Membership Secretary: Steve Ganley; Editor: Roy Jones; Board members: Kurt Radamaker, Tracy McCarthey, and Janet Witzeman).
Nov. 27, 2006—Incorporated as a nonprofit corporation with Arizona Corporation Commission.
November 2006—Arizona Bird Committee votes to have its website hosted by AZFO.
June 26, 2007—IRS approved tax-exempt status.
Oct. 20-21, 2007—First statewide membership meeting in Gilbert; bylaws approved and a board of directors and officers elected by members present.
April 2008—First seasonal reports posted (Winter 2007-08).
August 2008—Editorial committee of nine established with Pierre Deviche as editor.
Oct. 4-5, 2008—Second annual statewide membership meeting in Flagstaff.
Oct 23-25, 2009—Third annual statewide membership meeting in Tucson; first meeting with Saturday night dinner and dinner speaker.
Feb. 8, 2010—Board of directors adopt AZFO logo.
Feb. 9, 2010—First issue of AZFO News emailed to members.
Mar. 14, 2010—Board of directors decides to offer two research grants of $500 to be named the Gale Monson Research Grants.
Oct. 8-10, 2010—Fourth annual statewide membership meeting in Prescott. Decision to raise amount for research grants from $500 each to $1,000.
Jan. 21-24, 2011—AZFO coordinates Arizona Mountain Plover survey on behalf of US Fish and Wildlife.
Oct. 21-23, 2011—Fifth annual statewide membership meeting at AZGFD facilities north of Phoenix. First Gale Monson Research Grant recipients announced.
Jan. 13-16, 2012—AZFO coordinates Arizona Mountain Plover survey on behalf of US Fish and Wildlife.
Oct. 26-28, 2012—Sixth annual statewide membership meeting in Lake Havasu City.
October 2012—Gale W. Monson Trust donates to AZFO 200 copies of Counting Birds With Gale Monson, ed. by Bill Broyles and Richard Glinski.
Apr. 26-28, 2013—AZFO cosponsored with Important Birding Areas a survey of Bendire's Thrashers in western Arizona.
June 2013—AZFO sets up Facebook page.
Oct. 4-6, 2013—Seventh annual statewide membership meeting in Sierra Vista. Meeting adopts plan to award scholarships to help youth attend AZFO state meetings. Changes bylaws to set two-year term limits for officers and board members.
January 2014—Board established $1,000 lifetime membership for AZFO.
Sept. 2014—Board established mileage reimbursement for field expedition leaders.
Oct. 3-5, 2014—Eighth annual statewide membership meeting held in Miami-Globe.
Aug. 23, 2015—Board approves a proposal that beginning in 2016 the AZFO will merge its statewide coordination of the North American Migration Count with the recently established Global Big Day sponsored by eBird.
Sept 18-20, 2015—Ninth annual statewide meeting held in Show Low. Bylaws amended to include nominations committee as the fourth standing committee.
March 13, 2016—Board votes to change name of Arizona Birds Online to Arizona Birds and to move toward placing the journal on its own website.
Sept 18, 2016—Board approves a proposal from the seasonal reports regional editors to end the seasonal reports with the winter 2015-16 report.
Oct 21-23, 2016—Tenth annual statewide meeting held in Yuma.
March 2017—New Arizona Birds website goes online.
Oct. 22-24, 2017--Eleventh annual statewide meeting held in Cottonwood.
Oct. 20-22, 2018—Twelfth annual statewide meeting held in Ajo. Members change bylaws to expand board of directors from 9 to 11 members.
Oct. 21, 2018—Janet Witzeman received first AZFO Achievement Award.
Sept. 25-27, 2019—Thirteenth annual statewide meeting held in Flagstaff drew 105 participants to at least one activity, making it the largest meeting to date.
Sept. 26, 2019—Charles Babbitt received second AZFO Achievement Award.
Past Board Members
President
Troy Corman (Founding - 2013)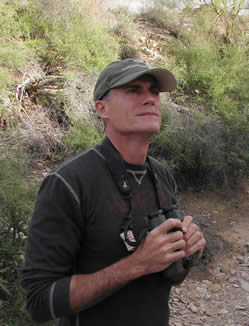 Troy has been an avid birder since high school. Raised in rural south-central Pennsylvania, he moved to Arizona in 1980 to pursue higher education and new adventures. For several years he conducted wildlife inventories on the upper San Pedro River for the Bureau of Land Management. He has worked for the nongame Branch of the Arizona Game and Fish Department since 1990, conducting surveys and coordinating projects for species of concern. He coordinated the Arizona Breeding Bird Atlas project from its inception. His passion for birds has taken him as far away as Peru and East Africa, and he plans to increase his world travels.
Vice President
Keith Kamper (founding - 2006)
Kurt Radamaker (Years?)
Marceline VandeWater (years)

Marceline grew up in the Netherlands where she studied botany. Later she became interested in birds, then butterflies and now, natural history in general. She leads bird and butterfly walks for the local chapters of the Audubon Society and for Arizona State Parks. She also works on botanical illustrations "Grand Canyon Project" at the Desert Botanical Garden and has provided photographs for several publications. She loves to spend time with her husband and 2 grown kids. Other hobbies include hiking, kayaking, skiing, cooking and traveling.
Recording Secretary
Erika Wilson
.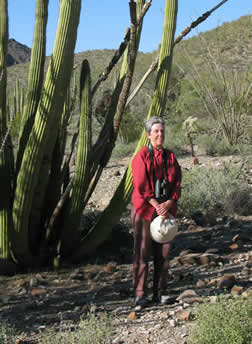 Erika grew up on dairy farms in the San Francisco Bay Area, where her interest in birds was encouraged by her grandmother. Her earliest bird memory is of recently hatched Killdeer in irrigated pastures, but it was a male Ruby-crowned Kinglet flashing his ruby crest that hooked her on birds when she was eight years old. With a degree in Biology, Erika worked in research labs on projects spanning agricultural pest control, vector borne diseases, cancer, and parasitic diseases before retiring to bird full time. Living in the mid-Atlantic states, Erika compiled the Washington, DC, CBC; ran BBS routes; served as non-voting Secretary of the Maryland/DC Records Committee; produced the Voice of the Naturalist (regional bird alert); served on the Virginia Society of Ornithology Board of Directors; did field work on both the Maryland and Virginia breeding bird atlas projects; led bird tours for the Audubon Naturalist Society; and served on the Virginia Records Committee. Erika moved to Arizona in 2004, where she leads local bird walks, counts on several CBCs, and volunteers at birding festivals. A longtime member of the American Birding Association, she recently served two terms on its Board of Directors. Erika was fortunate to live and bird in England for three years, and in India for three years. She has also birded in various countries in Europe, Asia, Australia, and South America.
Treasurer
Doug Jenness (Founding - current)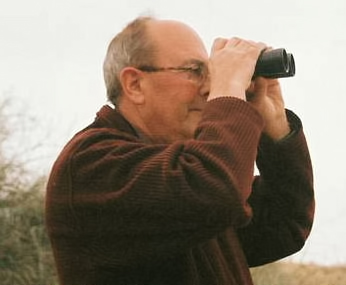 From the time he received his first bird book at age six, Doug has been interested in birds and natural history. During his high school years he was a nature counselor at a summer camp in Wisconsin. For many years professional work restricted his birding activity to brief excursions while visiting large cities in other countries and the United States. As a "big city" birder his favorite is New York City where he lived for more than 25 years. In the 1990s he joined the Minnesota Ornithologists' Union and contributed to its journal, the Loon. He helped establish a new Christmas Bird Count in an underbirded area. In 2002 he moved to Tucson where he has been actively birding and has led Audubon Society field trips.
Membership Secretary
Steve Ganley

Steve first started birding while living in Southern California. He attended the University of California at Long Beach and although his main area of study was botany, in winter when there were no flowers, his attention turned to Ornithology. His interests are in the status and distribution of birds but he still likes to have fun doing Big Days and keeping County lists. He has led field trips for various Audubon Societies in California and Arizona and in Sonora, Mexico.
Another area of his interests are the Christmas Bird Counts that are done every year and Steve has been the compiler for the Puerto Penasco (Rocky Point) Count in Sonora, Mexico for 20 years and is the National Audubon Society's editor for all the Christmas Counts taken in Arizona and Nevada. Besides being the membership chairman for the AZFO, he is working on a Digital Flora of Arizona's plants.
Director at large
John Arnett
Biography coming soon.
Lauren Harter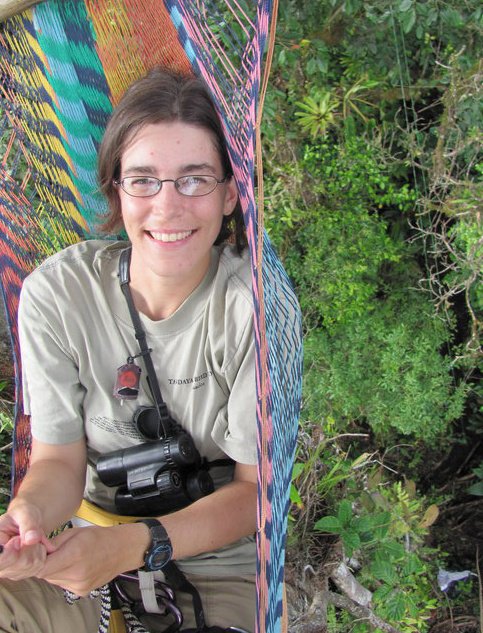 Lauren came to Arizona in 2004 to attend Northern Arizona University and was immediately impressed by the birding community and the richness of Arizona's avifauna. She first became involved with AZFO through the Seasonal Reports, as compiler for the Coconino region. Though her recent work as a field biologist has taken her across North and Central America, Lauren has remained interested in the status and distribution of Arizona's birds, particularly northern Arizona and the lower Colorado River valley.
Field Expeditions
John Yerger
A Senior Guide at Adventure Birding, John Yerger graduated from Penn State with a degree in Wildlife and Fisheries Science. While John enjoys every bird from the drabbest common resident to the most dazzingly plumed rarity, he is equally engaged by many other aspects of natural history. He has led trips from the boreal forests of Canada to the subtropics of Mexico, but primarily enjoys living and birding in southeastern Arizona. John serves as the Field Expedition Chair for the Arizona Field Ornithologists, volunteers as a Field Trip Leader for the Tucson Audubon Society, and compiles the Tucson Rare Bird Alert. Website

Journal Editor
Pierre Deviche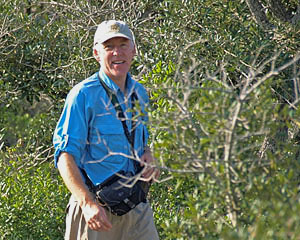 Pierre grew up in Belgium, where he received a Ph.D. in biology. After doing research for three years at Oregon State University, he moved to the University of Alaska Fairbanks where he served on the faculty of the Department of Biology and Wildlife for 11 years. He moved to Arizona in 1999 and is currently Professor of Environmental Physiology at Arizona State University in Tempe. Most of his current research concerns physiological and behavioral adaptations of birds, particularly passerines, to extreme environments such as the Sonoran Desert. In the past ten years, his students and he published approximately 40 scientific articles in professional journals. Before coming to the US in 1985, Pierre birded extensively throughout Europe. He has birded also in India, Thailand, Morocco, China, and Costa Rica. He and his wife live in Phoenix, Arizona. He has a keen interest in odonates and photography, and regularly leads local bird- and dragonfly-watching trips. Pierre's Academic Website
Web Developer
Kurt Radamaker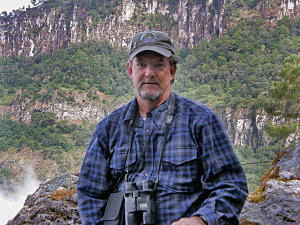 Kurt has been interested in nature and birding most of his life. He grew up in Southern California where he started birding at the age of 8 and by 15 he had completed Cornell Laboratory's Seminars in Ornithology. He met his wife Cindy in 1992 when he was teaching Ornithology at the University of La Verne in California and they have shared a lasting passion for each other and birding. They have traveled extensively and have led bird tours to several areas in the U.S., Mexico and Central America. They enjoy writing and hiking with their three Kerry Blue Terriers. Learn more about Kurt at his other website Mexico Birding.
Photo Documentation
Michael C. Moore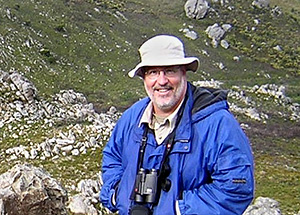 Mike has been a Biology professor for 30 years. He learned a love of the outdoors from his father who was an avid outdoorsman and fisherman. Mike started birding in Massachusetts when he was eleven. He worked at Manomet Bird Observatory in Massachusetts in college and then completed his PhD in Zoology at the University of Washington on White-crowned Sparrow breeding behavior and endocrinology. He has published over a 100 papers in scientific journals, is an elected member of the AOU and has been a member of the ABA since its inception. Mike was on the faculty at ASU for 27 years, but recently moved to the University of Delaware. Nevertheless, he maintains a keen interest and involvement in Arizona Ornithology. Mike also maintains a web site on the Birds of the Gilbert Water Ranch. Mike's Academic Website